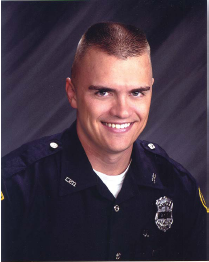 The Jake Laird Memorial Fund was created in 2004 by Jakes parents, Mike and Debbie Laird.
Jake was a well respected, four year Indianapolis Police Officer, who was killed August 18, 2004, when he and other officers responded to numerous 911 calls reporting gunfire on the Southside of Indianapolis. Jake was fatally wounded when a round from an SKS rifle, hit him high in the chest above his protective vest.
Jakes strong desire to serve the public and his intense loyalty to the police department has created a desire in his parents to continue his dream of public service by developing this memorial fund. The mission of the memorial fund is to provide financial contributions to law and fire department agencies for the purchase of new equipment, the institution of new instructional programs, or financial assistance to officers injured in the line of duty.
Personnal Note:
We have an annual golf tourney as our only fundraiser each year to raise money for this fund. What started as an event with eighty golfers in the first year (2004), has grown to over 350 golfers last year (2022). As of January 2023, we have been able to donate over $1,200,000 to various police and firefighter causes throughout the state of Indiana.
We are absolutely certain this is what Jake would have wanted us to do in his memory.